Okay, hopefully I'll be in my link-up routine from now on! Here goes!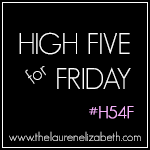 1. Bubbles by lamplight. He's so cute. 🙂
2. Watched this guy tightrope walk across the Grand Canyon. Whoa. Insane.
3. Started and finished Boomama's book in two sittings. SO. GOOD. If you haven't read it, go read it now!!! You will laugh on one page and then cry on the next and then laugh through those tears. Basically a woman's dream book come true. 🙂
4. I made this sandwich for dinner one night. It was so yummy that I've been dreaming about it. Okay, maybe not, but I definitely drooled thinking about it. Gotta make more soon!
5. I bought 3 pillow covers at Hobby Lobby recently. I bought 2 chevron and 1 solid. They are amazing! And only $7 each!
 Follow me on instagram: kindel_wws